Liability Insurance for Personal Trainers: Protecting Your Career and Clients
Protecting yourself and your clients is paramount when working as a personal trainer. One essential aspect of safeguarding your career is liability insurance. In this article, we will delve into the importance of liability insurance for personal trainers, explore its benefits, examine state regulations, and provide valuable insights to help you make informed decisions.
What is Liability Insurance for Personal Trainers?
Liability insurance for personal trainers is a specialized form of coverage that protects fitness professionals from potential lawsuits resulting from injuries or damages suffered by their clients during training sessions.
Why Do Personal Trainers Need Liability Insurance?
Personal trainers work closely with clients, guiding them through physical activities and exercises. While trainers prioritize safety, accidents can still happen. Here are three critical reasons why personal trainers need liability insurance:
1. Protection against Lawsuits
Accidents or injuries occurring during training sessions can lead to expensive lawsuits. Liability insurance provides financial protection by covering legal expenses and potential settlement costs.
2. Client Trust and Professionalism
Clients want to work with personal trainers who prioritize their well-being. HLiabilityinsurance demonstrates professionalism and a commitment to client safety, building trust and confidence in your services.
3. Peace of Mind
By having liability insurance, personal trainers can focus on what they do best—helping clients achieve their fitness goals—without worrying about potential legal implications.
State Regulations and Requirements
While liability insurance for personal trainers is not mandatory on a federal level in the United States, some states have specific regulations
1. New York
In New York, personal trainers working at the uni gym or fitness facility must be covered by liability insurance. However, trainers are still recommended to take their coverage to ensure comprehensive protection.
2. California
California does not have specific liability insurance requirements for personal trainers. However, trainers who operate as independent contractors or own businesses are strongly advised to carry liability insurance to protect themselves and their clients.
3. Texas
Texas does not mandate liability insurance for personal trainers. Nonetheless, having coverage is considered good business practice, allowing trainers to mitigate risks and safeguard their livelihoods.
The Cost of Liability Insurance
The liability insurance cost for personal trainers varies depending on coverage limits, location, and the size of your client base. On average, annual premiums range from $175 to $500.
Factors Affecting Cost
Several factors can influence the cost of liability insurance:
– Coverage limits: Higher coverage limits generally result in higher premiums.
– Location: Insurance rates may vary based on state regulations and local risk factors.
– Experience and qualifications: Trainers with more experience and certifications might receive lower premiums.
– Business structure: Independent trainers or business owners may pay higher premiums due to increased liability exposure.
Tip: Remember that the cost of liability insurance is a small price to pay compared to potential legal expenses.

Liability Insurance Personal Trainer
Summary of Benefits
Having liability insurance as a personal trainer offers several key benefits:
1. Financial Protection:
Liability insurance covers legal costs, settlements, and judgments, ensuring you are not financially devastated by potential lawsuits.
2. Client Confidence:
Insurance demonstrates your commitment to client safety, building trust and confidence in your professionalism.
3. Peace of Mind:
Knowing you're protected lets you focus on your clients and career without worrying about legal implications.
Conclusion
Obtaining liability insurance is a crucial step for personal trainers in safeguarding their careers and protecting their clients. While state regulations vary, it is wise to invest in comprehensive coverage to mitigate risks and ensure peace of mind. BPersonaltrainers can build long-lasting relationships with their clients by prioritizing safety and professionalism while thriving in their chosen fields.
Frequently Asked Questions
1. Is liability insurance mandatory for personal trainers?
Liability insurance is not federally mandated for personal trainers in the United States. However, certain states or fitness facilities may have specific requirements. It is crucial to understand the regulations in your state and assess the potential risks involved.
2. What does liability insurance typically cover for personal trainers?
Liability insurance for personal trainers typically covers legal expenses, settlements, and judgments arising from injuries or damages sustained by clients during training sessions. It may also include property damage, product liability, and professional negligence. coverage
3. How can personal trainers find the right liability insurance policy?
To find the right liability insurance policy, personal trainers can follow these steps:
– Research reputable insurance providers who specialize in fitness industry coverage.
– Compare different policies, considering their coverage limits, exclusions, and deductibles.
– Assess your specific needs and risks as a personal trainer and choose a policy that provides adequate protection.
– Consult with an insurance agent or broker who can guide you through the process and help you make an informed decision.
Summary
In the competitive world of personal training, liability insurance is necessary to protect personal trainers and their clients. While not federally required, having this coverage offers numerous benefits, such as financial protection, client confidence, and peace of mind. State regulations regarding liability insurance for personal trainers may vary, but it is always wise to carry comprehensive coverage to mitigate potential risks. By prioritizing safety, professionalism, and adherence to state regulations, personal trainers can thrive in their careers and build strong relationships with clients based on trust and reliability.
Conclusion
Liability insurance is essential for personal trainers, providing protection and peace of mind. While the regulations regarding liability insurance vary across states, it is crucial to understand the requirements in your region and take proactive measures to ensure comprehensive coverage. BPersonaltrainers can build successful careers and establish themselves as trusted fitness professionals. by prioritizing safety, professionalism, and client trust.
Whether you are a seasoned personal trainer or just starting your fitness journey, liability insurance should be a top priority. It safeguards your career, protects your clients, and mitigates potential financial risks. Remember to research reputable insurance providers, compare policies, and consult experts to find the right coverage that suits your needs.
Don't let uncertainty and legal vulnerabilities hinder your progress as a personal trainer. Prioritize liability insurance, adhere to state regulations, and focus on delivering exceptional service to your clients. With the right protecproper, you can confidently pursue your passion for fitness while ensuring the safety and well-being of those you train.
Take the necessary steps today to secure your future as a personal trainer. Invest in liability insurance and reap the benefits of professional security, client trust, and long-term success in the dynamic world of fitness training.
Additional Resources
To further assist you in understanding liability insurance for personal trainers, here are some additional resources you may find helpful:
1. National Academy of Sports Medicine (NASM)
Website: www.nasm.org
The NASM provides valuable information on fitness industry standards and best practices, including the importance of liability insurance for personal trainers.
2. American Council on Exercise (ACE)
Website: www.acefitness.org
ACE offers resources and educational materials for fitness professionals, including guidance on liability insurance coverage and requirements.
3. Fitness Insurance
Website: www.fitnessinsurance.com
Fitness Insurance is a specialized insurance provider offering coverage tailored to the needs of personal trainers. Their website provides insights into liability insurance options and industry-specific coverage details.
Remember that knowledge and preparation are essential when it comes to liability insurance. Stay informed, educate yourself about state regulations, consult with experts, and make informed decisions to protect yourself and your clients effectively.
Protecting your career as a personal trainer through liability insurance is not only responsible but also sets you apart as a trusted and professional fitness expert. By investing in this crucial coverage, you take proactive steps toward long-term success and ensure a secure future for yourself and your valued clients.
Additional Recommendations for Personal Trainers
In addition to securing liability insurance, there are other steps personal trainers can take to protect themselves and their clients further:
1. Obtain Proper Certifications and Education
Investing in professional development by obtaining reputable certifications and staying updated on industry trends and best practices is essential. This enhances your knowledge and skills as a trainer and demonstrates your commitment to providing safe and effective training sessions.
2. Conduct Thorough Client Assessments
BConduct comprehensive client assessments before starting any training program to identify any pre-existing conditions or limitations. This information will help you tailor workouts to each individual's needs and minimize the risk of injuries.
3. Design Clear and Concise Training Programs
Ensure your training programs are well-structured, understandable, and adequately documented. This includes outlining exercise instructions, safety guidelines, and any modifications for different fitness levels or specific health concerns.
4. Maintain Open Communication with Clients
Regularly communicate with your clients to understand their progress, address concerns, and ensure they feel comfortable during training sessions. Encourage them to provide feedback and inform you of any discomfort or pain experienced during exercises.
5. Maintain a Safe and Clean Training Environment
Create a safe and hygienic environment for your clients by regularly cleaning and maintaining equipment, ensuring proper ventilation, and implementing safety protocols such as having first aid kits readily available.
6. Stay Updated on Industry Standards and Legal Requirements
Stay informed aboyourour state's-latest industry standards, guidelines, and legal requirements. s This includes being familiar with any changes or updates to liability insurance regulations to ensure compliance.
By considering these additional recommendations personal trainers can enhance their professionalism, minimize risks, and create a safe and supportive environment for their clients.
Conclusion
Protecting yourself and your clients through liability insurance is crucial. as a personal trainer. However, it should not be the only safeguard you rely on. By obtaining proper certifications, conducting thorough client assessments, designing clear trainistraightforwardograms, maintaining open communication, ensuring a safe training environment, and staying updated on industry standards, you can further strengthen your practice and provide exceptional service to your clients.
Remember, liability insurance is just one piece of the puzzle in building a successful and sustainable career as a personal trainer. You can thrive in this dynamic and rewarding profession by combining it with best practices, continuous education, and a commitment to client safety; invest in yourself, prioritize safety, and enjoy the journey of helping others achieve their fitness goals while protecting your professional interests.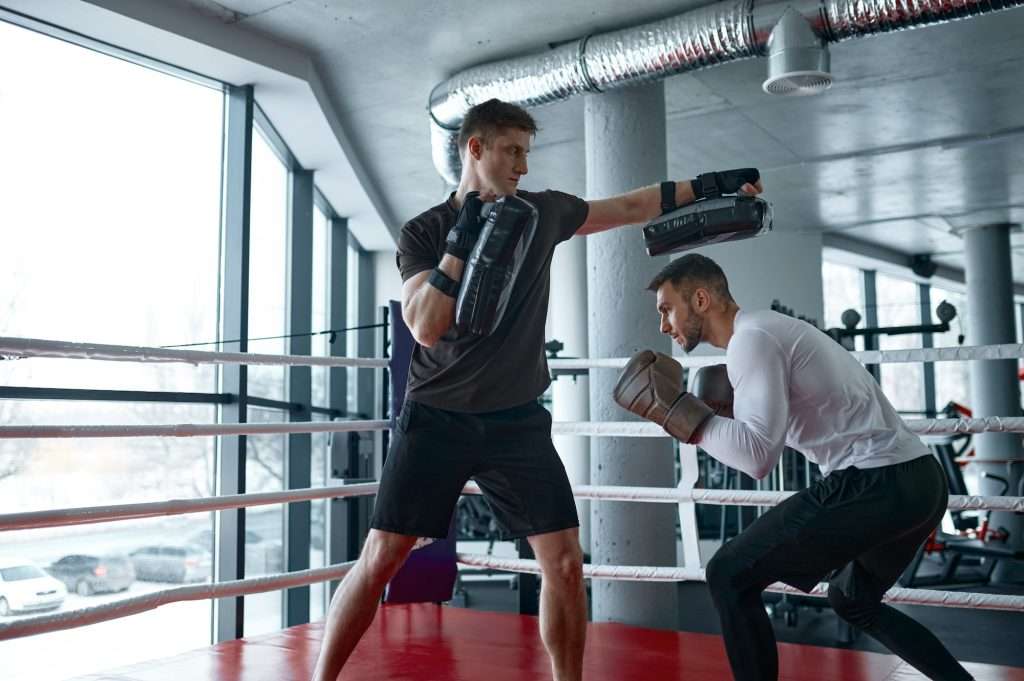 Putting Safety First as a Personal Trainer
Regarding personal training, safety should always be the top priority. Here are some additional tips to ensure the well-being of both yourself and your clients:
1. Warm-Up and Cool-Down
Incorporate proper warm-up and cool-down routines into every training session. This helps prepare the body for exercise and prevents injuries.
2. Emphasize Proper Form and Technique
Educate your clients on the importance of using correct form and technique during exercises. Incorrect conditions can lead to injuries and hinder progress.
3. Modify Workouts for Individual Needs
Tailor workouts to each client's capabilities and limitations. Consider age, fitness level, medical conditions, and previous injuries when designing programs.
4. Encourage Rest and Recovery
Stress the significance of rest and recovery days in preventing overtraining and allowing the body to rejuvenate. Encourage clients to listen to their bodies and take breaks when needed.
5. Stay Up-to-Date with CPR and First Aid Training
Obtain CPR and first aid certifications to prepare for emergencies during training sessions. Regularly renew these certifications to stay current with the latest techniques.
6. Maintain Adequate Liability Insurance Coverage
Regularly review your liability insurance policy to ensure it provides sufficient coverage for your business and clients. Update your policy as your business grows or if state regulations change.
BImplementingthese additional safety measures demonstrate your commitment to providing a secure and effective trpracticalperience. Creating a safe environment fosters trust with your clients and enhances your professional reputation.
Summary
As a personal trainer, your success depends on your expertise and ability to protect yourself and your clients. Liability insurance is crucial to this protection, but other safety practices should complement it.
By emphasizing proper techniques, tailoring workouts to individual needs, promoting rest and recovery, staying updated on CPR and first aid training, and always prioritizing safety, you can create a safe and supportive environment for your clients. Remember to regularly assess and update your liability insurance coverage to align with your business growth and any changes in state regulations.
Putting safety first not only safeguards your career as a personal trainer but also ensures the well-being and satisfaction of your clients. By always strivconstantlyr excellence in safety measures, you can thrive in your profession and positively impact the lives of those you train.